Sunday, January 30, 2005
More Mojo!
---
Looking good in his birthday suit.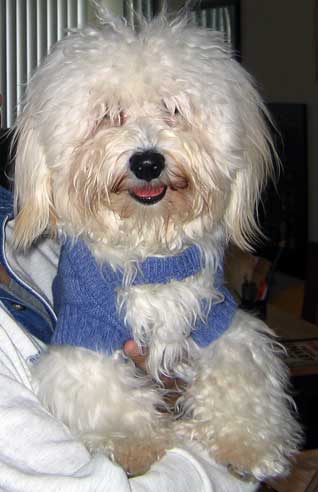 ---
Mojo at high speed. Those yellow things are clips, to keep the hair out of his eyes. At the dog show there was a woman running her Hav, and she braided the hair around the eyes. I think we're going to do that too.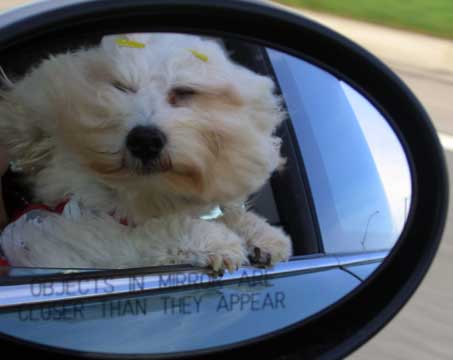 ---
After an aborted swim attempt and general running around in the park.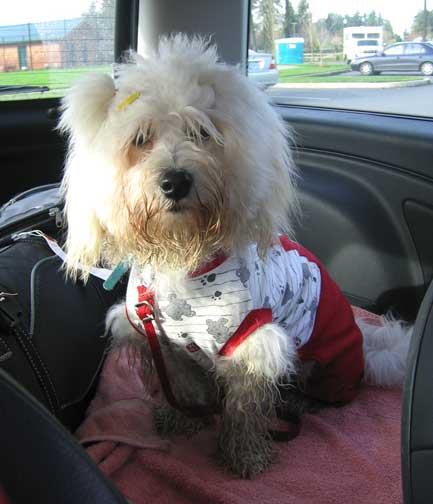 ---
Saturday (1/29) was Mojo's birthday! He's officially 1 year (and a day) old. What does that mean? Well, uh, now he can compete in AKC Agility! Yeah! Right!

He got all kinds of treats yesterday, starting with two whole scrambled eggs, some beef stew, a whole tablespoon of Green Tripe, and lots of park time. We also went to the bigger park today for a really long time, then he got to ride around with us in the car. Oh boy!

Actually, I'm pretty sure that Mojo would rather ride around in the car (and be left waiting in the parking lot) than stay at home.

In the park today he almost went into the lake! He just took two steps in, then sank into the mud. We told him to get out before anything else happened. Next time we'll bring a towel, just in case he wants to go swimming.