Wednesday, May 26, 2004
Nothing much to report. We gave Mojo a real bone, and he barked when I tried to take it away, so I took it away. Still biting, so I'm trying some more correction stuff. It seems to have worked somewhat - the correction is basically lightly pressing down on his shoulder while saying "no bite." That's a classic correction, and it's getting the results...even though it's a bit extreme. But his biting has gotten a bit past the 'ouch' state to the "hey, that really hurts" level.

His ears seem to be getting to a darker brown/red color, but Ela says it's my imagination.




Tuesday, May 25, 2004
A couple of things since last time. Mojo seems to be more rambunctious now than before. He jumps up and bites more than he did before, and he's a bit more forceful and independent when we walk. The vet warned us about the biting/chewing, because his real teeth should be/are coming in around now. I can see some of them, I think - between the canines and the first set of molars there's something.

The other thing was that he will look where you're pointing instead of at your finger. If we throw something and Mojo can't find it, we can point and he'll look/go in that direction. It's weird, because I didn't know dogs did that. I always heard they just sort of look at you when you point and say "go look over there."

Maybe it's just me.

His coat really is much better. He's in the bath right now, but even before there was a marked improvement. Maybe all the above is due to higher-quality food?

We're also starting in on the corrections, mainly "No." The positive stuff is OK, but there does come a time when you want to tell your dog not to do something. When we're mad at him (or something he did), we can just loom over him. He knows we're mad, because he starts doing tricks like rolling over.

Really, our only problem with him right now is his biting. I suppose we've come a long way :)




Mojo's coat definitely seems to be nicer, but we don't understand how only a bit of food would make such a difference.

Tomorrow he gets a bath, so it won't matter much, but we'll see what happens over the next few weeks.



Monday, May 24, 2004
Some more pictures...
---
On my desk, a few minutes ago.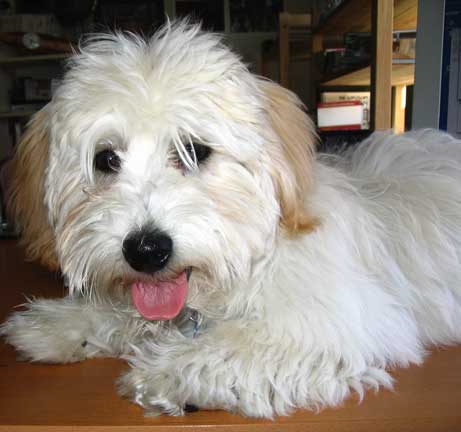 ---
At the park yesterday.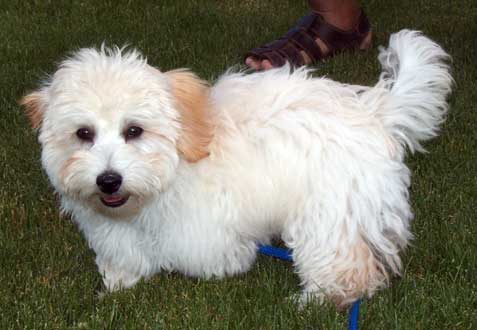 ---
We gave him some kind of chew toy, but I can't remember what it was. He's looking up, as if he's nervous we're going to take it away from him.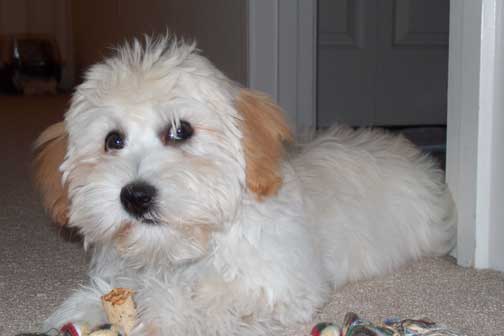 ---
Mojo's coat seems nicer this morning. I doubt one day on new food would make a difference, but even Ela noticed it. He hasn't even eaten a full cup of it yet. Maybe he's making more oil, or it was the exercise yesterday? Hmmm.



Sunday, May 23, 2004
We found small 1.5lb bags of the
"Chicken Soup for the Pet Lovers' Soul"
for dogs at Western Pet Supply for $2. No kidding, there really is such a thing. We saw the booth at the pet fair, but we thought it was some kind of book giveaway or something. Two people on the havanese list fed it to their dogs, and the ingredient list looked pretty good; the first four ingredients were meat-related.
Mojo seems to like it, but he barfed up the first bunch he ate. Not sure why, but right before he ate we were at the park running around. He seems to have picked all of it out of his Eukanuba, so it's more tasty. If he likes it, we'll go grab a 20lb bag and go from there.