Thursday, February 15, 2007
Wow, it's been a ridiculously long time between updates. That's because in the Philippines, there's not much to do with your dog. We went to the Power Plant at Rockwell, which we heard was dog-friendly, and found out you have to carry your dog. Ugh. Plus, you can't bring them into the stores. WTF?
The only dog-friendly area is the new Bonifacio High Street (where Krispy Kreme) is. There's a great store there that sells Chicken Soup dog food! Unbelievable! Now we don't have to convince someone to carry a 50lb bag of it in their luggage!
It's Landes and Hobbes, or something like that. We met the owner when we brought Mojo in (he has a Bichon at home). Right now they're the only Diamond pet food importer in the Philippines, so buy your dog food there!
BHS (and Serendra) is actually pretty dog friendly. Be sure to bring you leash and pick up after your dog. Mojo was able to run around on the relatively large lawns and generally enjoyed himself. He even said hello to some people - people who weren't afraid of dogs, a common problem here in Makati.
We went to the cemetary in Sucat the other day; it's the only other dog-friendly place that we know of. However, we heard that you can bring your dog to the Intramuros and Army golf course (according to the caddies). We haven't been able to try that yet, though.
We gave Mojo a haircut! The results are below. We've gotten used to it, but boy are we glad we took pictures of him beforehand!
---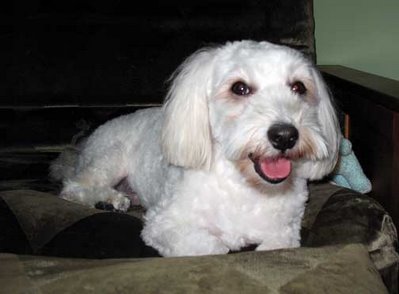 ---