Sunday, April 05, 2009
Wednesday, May 30, 2007
Mojo's been relegated to #2 dog after the birth of Isabel. But that doesn't mean that we don't love him! It's just he has to be more proactive in getting our attention.
His hair is finally back to normal. It's a bit longer above the eyes (as you'll see), but overall he looks pretty good. We went walking the other day, and it was sooo hot that he lay down in the street and refused to move. So I carried him the rest of the way home. Dogs!
---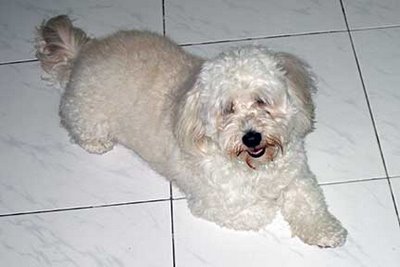 ---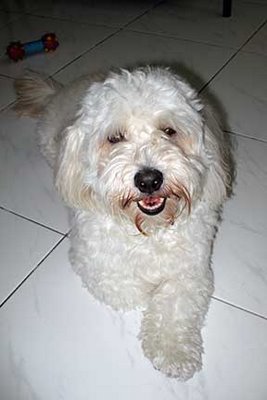 ---
Thursday, April 05, 2007
Thursday, February 15, 2007
Wow, it's been a ridiculously long time between updates. That's because in the Philippines, there's not much to do with your dog. We went to the Power Plant at Rockwell, which we heard was dog-friendly, and found out you have to carry your dog. Ugh. Plus, you can't bring them into the stores. WTF?
The only dog-friendly area is the new Bonifacio High Street (where Krispy Kreme) is. There's a great store there that sells Chicken Soup dog food! Unbelievable! Now we don't have to convince someone to carry a 50lb bag of it in their luggage!
It's Landes and Hobbes, or something like that. We met the owner when we brought Mojo in (he has a Bichon at home). Right now they're the only Diamond pet food importer in the Philippines, so buy your dog food there!
BHS (and Serendra) is actually pretty dog friendly. Be sure to bring you leash and pick up after your dog. Mojo was able to run around on the relatively large lawns and generally enjoyed himself. He even said hello to some people - people who weren't afraid of dogs, a common problem here in Makati.
We went to the cemetary in Sucat the other day; it's the only other dog-friendly place that we know of. However, we heard that you can bring your dog to the Intramuros and Army golf course (according to the caddies). We haven't been able to try that yet, though.
We gave Mojo a haircut! The results are below. We've gotten used to it, but boy are we glad we took pictures of him beforehand!
---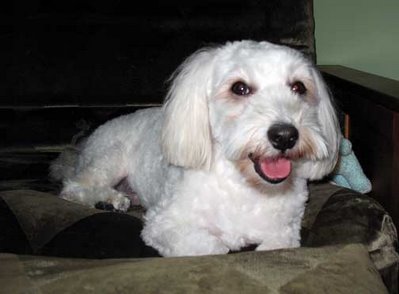 ---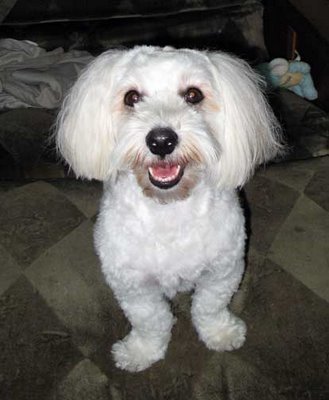 Wednesday, November 22, 2006
Another day, another haircut. Yep, Mojo got trimmed pretty well.

Now that we're joining bazaars we leave Mojo at the Narra house as a daycare location. He really seems to like it, especially since there have been all these people there. Two weeks ago the Rodriguez clan was over, and ran Mojo all over the polo field. When Mojo got home, he basically passed out he was so tired. Last week there were guests, so he got to do tricks & such. Fun!



Monday, November 06, 2006
Mojo got bathed yet again today. It's such a routine that he now runs to the blow-dry area after the bath so he can get nice and dry. That's after he rolls around on the towels to get most of the water off.
What we've found is that it's easier to dry him then comb him. Most everyone says to comb then dry, but the hair really isn't manageable when it's wet. It also hurts more if there are mats. With a lot of bodifier and conditioner it's easier to comb out the mats (if any).
Of course, keeping his hair short also cuts down on the mats. But he still has a surprisingly large amount of hair stuck to him after the shower...even with his short hair. Time to head back to the groomer.
Mojo's ears still are problematic. The other day, Ela removed a huge thing of whatever from Mojo's ear. She's obsessed with cleaning out his ears, and cleans them every night with cotton balls, q-tips, and the antiseptic solution the vet gave us. The solution obviously isn't working (the infection or whatever it is is still there), but we still haven't gotten around to visiting the vet again. Mojo doesn't seem to be scratching his ears, so I guess it doesn't irritate him that much. But we still should take care of it before it gets serious.
Anyway, pictures!
---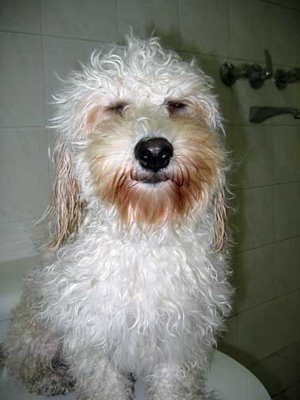 Mojo striking his pose as his face and snout are dried. I suppose it's like being in a car, except you're not moving? Note that we use one of those cold/hot dryers. The cold air seems to work better, and makes him fluffier due to the supposed ionic feature of the dryer.
---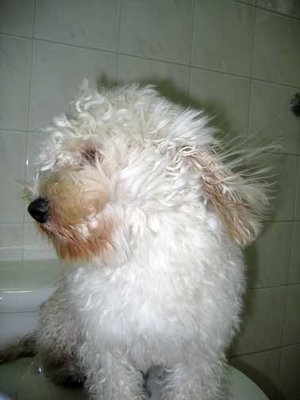 This is Mojo rotating so the air gets all of hi, especially the wet areas under his ears.
---
Sunday, November 05, 2006
Mojo went on a tugboat ride!
We all went on a tugboat ride, on the way to christening the new barge "Star Loader". This was back on 10/23, so I'm a bit behind.
He doesn't seem to mind the water, and I guess dogs in general don't mind, given the number of dogs on the tugboat and barge.
Anyway, pictures!
---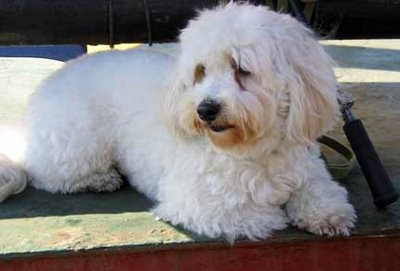 It's easy to be on a tugboat with an umbrella of your own.
---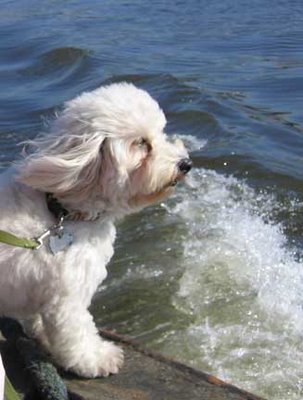 Mojo, with the almost totally opaque waters of Manila Bay in the background.
---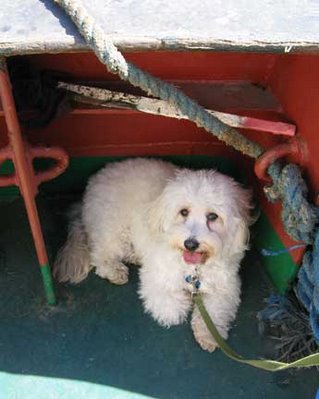 Mojo taking shelter from the hot sun on the way back.
Friday, October 27, 2006
The other day we were at the Narra house. In the back is a marble patio, with a 5 or 6 foot drop to the polo field.

Anyway, Mojo was chasing some birds (yes, birds) around the patio and they flew off into the polo field. Naturally Mojo chases them to the edge. And then, for the first time, he looks down, and jumps off! Oh no! So he ran off for about 20 feet into the polo field. Luckily we were watching, so saw him jump off. Whew!

This is now a problem because if he jumps off, how will he get back? If nobody notices he's in the polo field, well, it wouldn't be too hard for someone to just steal him. Yuck.