Thursday, March 17, 2005
Ela cut Mojo's hair the other day, because he'd just get too matted up at daycare. She started out a bit shaky, but by the end Mojo looked like a whole new dog!
And that's in a good way!
Actually, he's just got a nice puppy cut now. All the coarser hair's been cut away, so he's really soft. His hair is much shorter (maybe 1.5-2 inches), so it doesn't mat as much. At least that's the theory.
The good thing about the short hair is he doesn't get as much stuff tangled in it when we go out for walks. There's still a lot of hair, but it's less shaggy.
---
Sleeping is Mojo's favorite hobby! That, and going outside.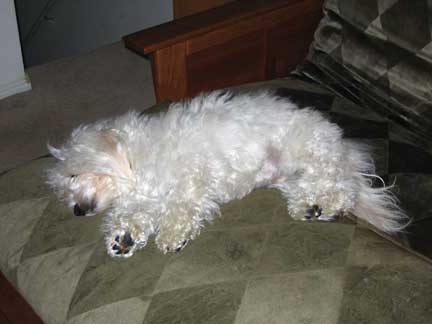 ---