Saturday, June 17, 2006
It's been a long two weeks, with a lot going on. Mojo's been the same, though! His hair is starting to grow out a lot, which is really nice. He got a mat, which is a good sign.
We've been doing agility again, and the last two weeks have been kind of interesting. Mojo occasionally will just stop and sort of sit there, staring at whomever's running him. It's unclear whether he's lazy, tired, or both, but I think it's because the courses are getting harder. Instead of just doing runs at lightning speed, we've been trying to slow him down so he pays attention to what we want him to do. This helps on the trickier courses, because they set the courses up so your dog -wants- to take the wrong jump. You have to call him off and send him to the right obstacle, which is hard when they're not paying attention to you.
So anyway, I suspect that frustration is a part of it. When Mojo does the wrong thing we stop and bring him back to the beginning, or at least an obstacle before the one he had a problem with. He doesn't really seem to like that all that much, but with enough coaxing (or carrying) he's OK.
Agility, btw, is run by Behave Canine Solutions LLC. They're really great, and really put a lot of thought into messing with (uh, challenging) your dog...and you!
Anyhow, more pictures!
---
Mojo somehow got this toy wrapped around his head, or got his head stuck inside this toy. Any which way, it made for a funny picture!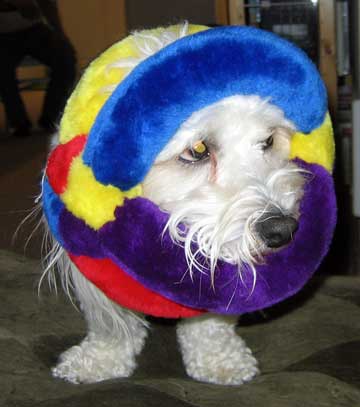 ---
Mojo relaxing outside the Pittock mansion.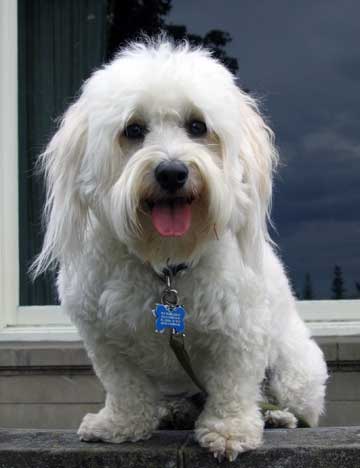 ---
Extreme closeup!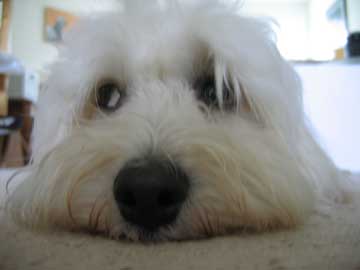 ---